Physics
Ph.D.
I graduated from the University of Calfornia, Berkeley in 2013 with a Ph.D. in theoretical physics. My advisor was Birgitta Whaley.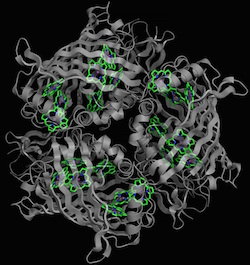 Research
My dissertation research was on the role of electronic quantum coherence in photosynthetic energy transfer:
Does quantum coherence contribute to biological function in photosynthesis?
How can we use statistics, optimization and quantum information theory to design ultrafast spectroscopy experiments on photosynthetic pigment-protein complexes?
My main model system was the Fenna-Matthews-Olson complex of green sulfur bacteria (shown above).
My work involved developing new mathematical techniques, more efficient computational methods and research software (mostly in Python). I collaborated with researchers in Taiwan, Germany, New York and Berkeley, wrote 6 papers and presented at 12 conferences. For the last three years of my program, I was supported by a fellowship from the US Department of Energy. I spent summer 2010 as an EAPSI fellow at National Taiwan Unviersity.
Publications
See my Google Scholar profile.
Writing from Swarthmore
At Swarthmore College, I majored in physics and minored in mathematics. Here are my final projects for each department: